Squash is undoubtedly a supremely tough sport. The inherent physical nature of the game, trying to execute a game-plan while shoulder to shoulder with an opponent who is attempting to do the exact same thing, battling away within the walled confines of the court as tiredness and fatigue set in, all go toward making it one of the most challenging sports out there for those truly dedicated.
While the need to be physically tough to succeed is clearly apparent to anyone who has ever played the game, the equally important need for mental toughness is often overlooked. Trading blows with your opponent in a gruelling five-setter, whether that's the World Open Final in front of thousands of roaring spectators to the backdrop of the Egyptian pyramids, or in the deciding string of a division 4 County League match on a cold Tuesday night in January, takes more than just physical and technical prowess – digging in and holding your nerve often takes a huge degree of mental toughness.
So what is 'mental toughness' exactly?
Athletes and coaches have long used the phrase, but there remains little agreement on exactly how to define it. It has been described in the sport psychology literature as "One of the most important attributes that will lead to a successful athletic performance", yet there is still a lack of consensus as to what it actually is, whether it is an inherent character trait, and perhaps most importantly, if it is something we can actually train for – and if so, how?
Prominent researchers Graham Jones, Sheldon Hanton, and Declan Connaughton have published articles in both the Journal of Applied Sport Psychology and The Sport Psychologist, interviewing athletes, coaches, and sports psychologists to construct a framework of mental toughness and attempt to define exactly what it entails – their model consisted of 30 distinct attributes that they clustered into 4 main headings (Attitude/Mindset; Training; Competition; Post-Competition), with further constituent sub-headings. The main framework they devised can be seen in the image below.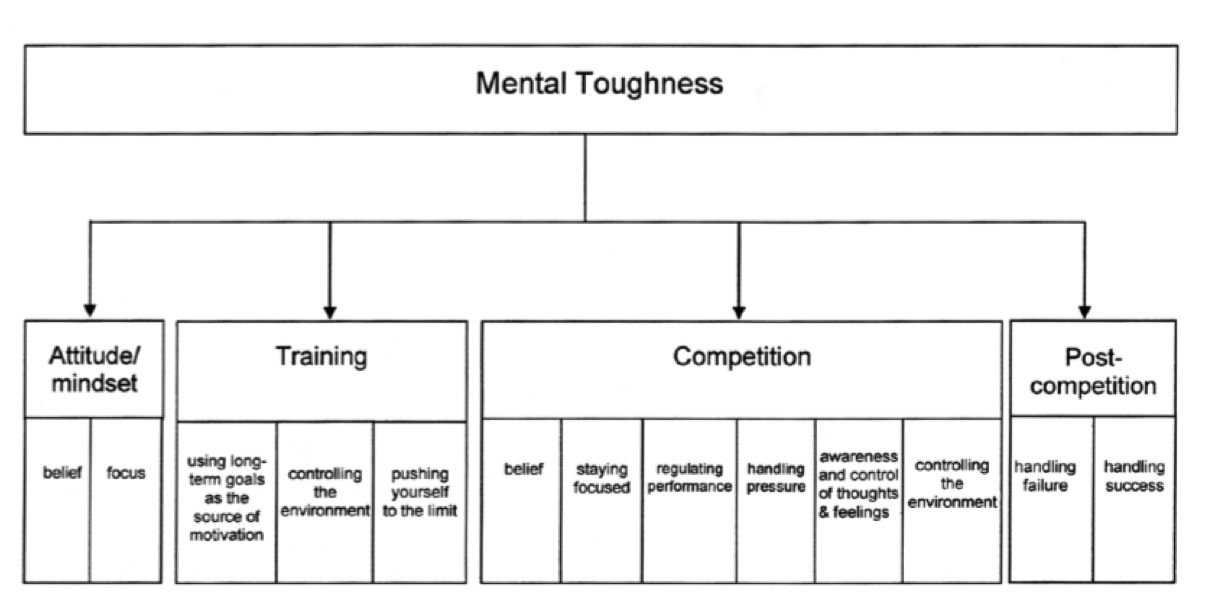 The full paper with their breakdowns of all of the individual attributes and a discussion of each can be found here and is a fascinating read. Understanding all of the elements that go into being mentally tough is an important part of developing your performance in this area. Even if you've never read a science journal before, don't be put off – the 'Results' section can be read on its own to see just the findings of their interviews without the technical details of the study and how the data was collated. For those interested in further reading, there's a good article here that provides more insight into some of the research and study that has gone into the area as a whole.
So seeing all of those areas and elements laid out, it's important to understand and recognise that mental toughness isn't just about what you do on the court –  it's about how you approach your matches/training, how you prepare, how you train, how you evaluate. To be truly 'mentally tough' requires a conscious effort and a willingness to train to develop and improve upon those areas in which you're lacking – in exactly the same way becoming 'physically tough' requires a conscious effort to improve the weak points in your overall athleticism. There are no quick fixes, you can't improve your mental toughness overnight any more than you can become suddenly fitter overnight – it takes a commitment to the process.
If you feel that improving your mental toughness is an area in which you need to develop, start by setting yourself the goal of committing to spend 10-15mins a day on reading around the subject and practising some of the recommended mental skills training exercises. A great basic article on 'How to Become a Mentally Strong Athlete' to start your reading list can be found here and the believeperform.com website it's featured on is a great place to find further articles as well.
We try and feature a whole range of mental training content here on SquashSkills, so make sure to read around our blog articles for more. Mental toughness is a topic we'll be returning to in the future, with fresh ideas on how to develop it and harness the power of a strong mind on court, so stay tuned to the site.
Gary Nisbet
B.Sc.(Hons), CSCS, NSCA-CPT, Dip. FTST
SquashSkills Fitness & Performance Director
Need to improve your mentality?
Check out this series where one of the most successful coaches in squash history, Paul Assaiante discusses the mental game and explains how you can maximise your potential in training and matches.
Watch now