Ollie Turner is a Performance Nutritionist and PhD student at Sheffield Hallam University, the English Institute of Sport, and England Squash, with his research focusing on creating specific nutritional guidelines for elite squash players. He is currently asking elite squash players, coaches and S&C coaches to complete a 15-minute validated sports nutrition questionnaire to assess their sports nutrition knowledge.
We asked Ollie about his research, how to get involved and his top three sports nutrition tips coming out of lockdown…
What is the research about?
Overall my research is focused on creating specific nutritional guidelines for elite squash players. Currently, squash players have to follow non-specific guidelines to gain an understanding of how much energy they need to consume on a daily basis to fuel their performance. Research in other high-intensity intermittent sports such as football (1, 2, 3) and rugby (4, 5, 6) has quantified how much energy players are expending on a daily basis. With this information, players can develop an individualised nutrition strategy in synchrony with their training load to optimally fuel for each session. This is important to maximise training quality and performance on court.

Why are you assessing nutrition knowledge of elite players, coaches and conditioning coaches?
Assessing the nutritional knowledge of elite players is the first step in understanding why players make the dietary choices that they are reported to make (7). There has been a reported mismatch between the dietary choices of elite squash players and contemporary non-specific sports nutrition guidelines (8). An athlete's nutrition knowledge has been shown to be positively correlated with the quality of their dietary intake (9), so it helps players identify whether they may benefit from nutrition support. It also highlights the key areas where they may need to improve their knowledge and also helps convey key areas to focus on for my PhD research. Alongside players, we are also assessing the nutrition knowledge of squash coaches and conditioning coaches as this is where squash players are reported to get their nutrition recommendations from (8).

What do I have to do and how do I take part?
You can take part in the research if you are a member of the Professional Squash Association (i.e. elite player), hold a squash coaching qualification (e.g. England Squash Participation Award – Level 1), or are a qualified strength and conditioning coach (e.g. UKSCA) who has provided support to a squash player. Participation involves completing the Revised Nutrition for Sport Knowledge Questionnaire (RNSKQ) which is a validated tool for assessing sports nutrition knowledge (10, 11). The questionnaire has six subsections (weight management, macronutrients, micronutrients, sports nutrition, supplements and alcohol) and should take 15-20 minutes to complete. You will receive your own individual sports nutrition knowledge results sheet highlighting your overall sports nutrition knowledge, key strengths and areas for improvement (see photo). Take part by clicking on the link below!
Nutrition Knowledge of Elite Squash Players, Coaches and Conditioning Coaches – Revised Nutrition for Sport Knowledge Questionnaire
What are your top three nutrition tips for squash players post lockdown?
1. Identify what your physical goals are
My first tip would be to identify what your nutritional goals are. Every player whether that be recreational, or elite will be in a different scenario depending on where they are in the world and how lockdown has affected them. Some players may have been lucky to continue as normal, whereas some players will have had their summer training routines torn to shreds. If players have lost some muscle mass over lockdown, then consuming high-quality protein sources spaced out the day alongside a training schedule might be of benefit (12). Likewise, if players haven't been able to follow a consistent training pattern over lockdown and have indulged in some treats leading to an increase in fat mass then focusing on reducing overall calorific intake and consuming a balanced diet can help (13).

2. Fuel your training demands
It's also important to write down your training schedule and highlight key sessions which are performed at a high intensity. These could be hard sessions such as ghosting, the dreaded 400 m track intervals or a squash match against your biggest rival. Carbohydrates are the bodies predominant fuel source at high intensities (14) so ensuring that you have some carbohydrates in your diet on these days will increase the intensity and quality of your performance during these exercise bouts (15). Think porridge or toast for breakfast, whole grains (rice, pasta, bread etc.) or legumes (beans, chickpeas, lentils etc.) for main meals and fruits (bananas, apples etc.) as snacks.

3. Minimise muscle damage
Movements which have an eccentric component (lengthening of the muscle), such as lunges which characterise squash-specific movements around the court can cause muscle damage and acute soreness of the muscle (16, 17). This can reduce the amount of force the muscle can produce in the following days and reduce training quality and performance on court (18). Polyphenols are phytonutrients which can reduce the amount of inflammation and stress on the damaged muscle. They are found in various foods such as berries, cherries, pomegranates, cocoa and nuts and have been shown to accelerate muscle function after a bout of damaging exercise (19), although this hasn't been quantified in squash. Something like a berry smoothie mixed with milk, yoghurt and a handful of nuts post-exercise can be a prudent recovery strategy to help combat muscle damage. Similarly, omega three fatty acids which are found in oily fish such as salmon, mackerel or sardines have been shown to reduce inflammation and stress-induced by muscle-damaging exercise (21). Consuming foods which provide an omega-three fatty acid source may help the recovery process.
Ollie Turner
Performance Nutritionist & PhD student at Sheffield Hallam University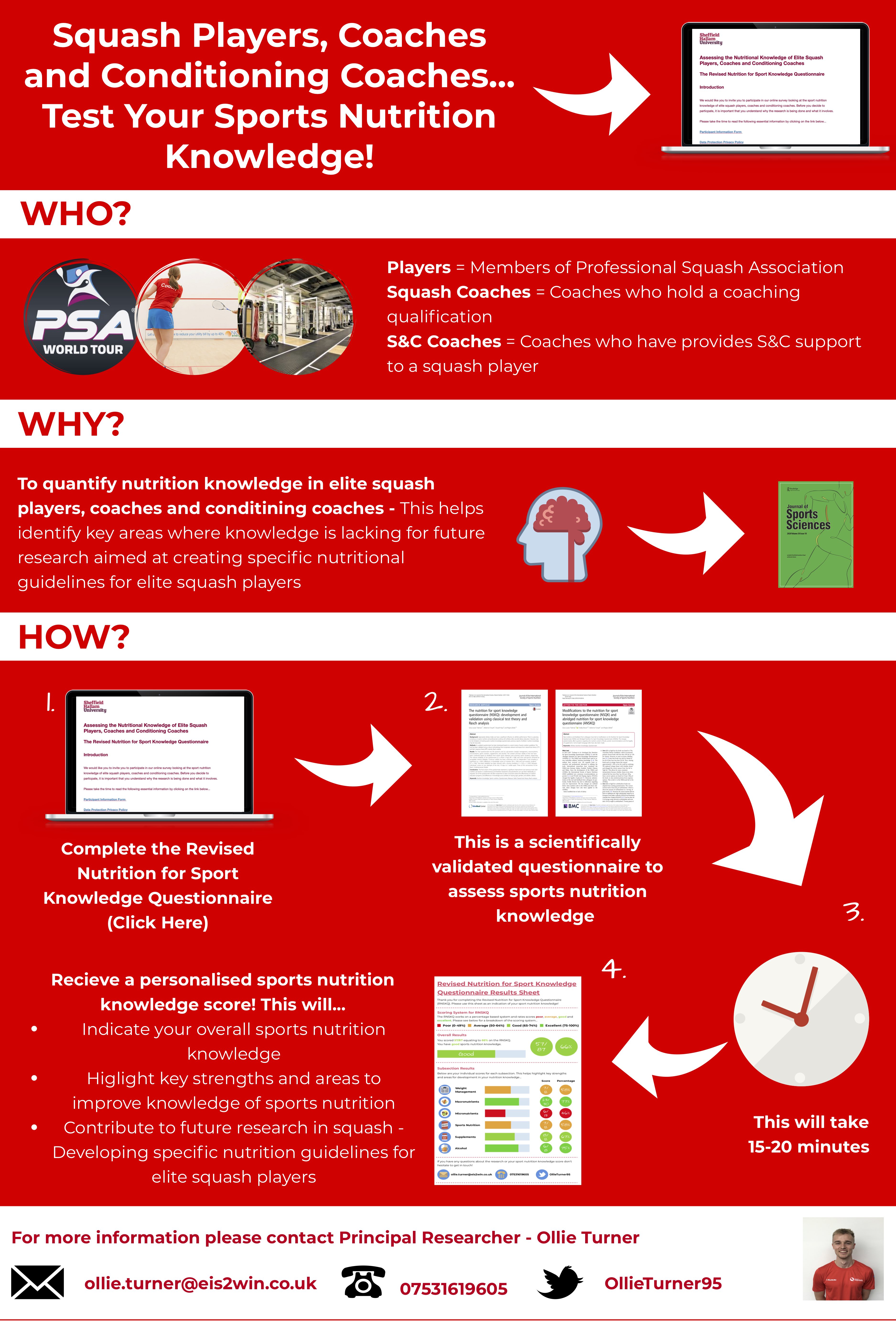 ---
References
Ebine, N., Rafamantanantsoa, H. H., Nayuki, Y., Yamanaka, K., Tashima, K., Ono, T., . . . Jones, P. J. H. (2002). Measurement of total energy expenditure by the doubly labelled water method in professional soccer players.Journal of Sports Sciences, 20(5), 391-397. doi:10.1080/026404102317366645

Anderson, L., Orme, P., Naughton, R. J., Close, G. L., Milsom, J., Rydings, D., . . . Morton, J. P. (2017). Energy intake and expenditure of professional soccer players of the english premier league: Evidence of carbohydrate periodization.International Journal of Sport Nutrition and Exercise Metabolism, 27(3), 228. doi:10.1123/ijsnem.2016-0259

Brinkmans, N. Y. J., Iedema, N., Plasqui, G., Wouters, L., Saris, W. H. M., van Loon, L. J. C., & van Dijk, J. (2019). Energy expenditure and dietary intake in professional football players in the dutch premier league: Implications for nutritional counselling.Journal of Sports Sciences; J Sports Sci, 37(24), 2759-2767. doi:10.1080/02640414.2019.1576256

Morehen, J. C., Bradley, W. J., Clarke, J., Twist, C., Hambly, C., Speakman, J. R., . . . Close, G. L. (2016). The assessment of total energy expenditure during a 14-day in-season period of professional rugby league players using the doubly labelled water method.International Journal of Sport Nutrition and Exercise Metabolism; Int J Sport Nutr Exerc Metab, 26(5), 464-472. doi:10.1123/ijsnem.2015-0335

Costello, N., Deighton, K., Preston, T., Matu, J., Rowe, J., Sawczuk, T., . . . Jones, B. (2018). Collision activity during training increases total energy expenditure measured via doubly labelled water.European Journal of Applied Physiology, 118(6), 1169-1177. doi:10.1007/s00421-018-3846-7

Smith, D., King, R., Duckworth, L., Sutton, L., Preston, T., O'Hara, J., & Jones, B. (2018). Energy expenditure of rugby players during a 14-day in-season period, measured using doubly labelled water.European Journal of Applied Physiology, 118(3), 647-656. doi:10.1007/s00421-018-3804-4

Trakman, G., Forsyth, A., Devlin, B., & Belski, R. (2016). A systematic review of athletes' and coaches' nutrition knowledge and reflections on the quality of current nutrition knowledge measures. Nutrients, 8(9). doi: 10.3390/nu8090570

Ventura-Comes, A., Martínez-Sanz, J., Sánchez-Oliver, A., & Domínguez, R. (2019). Analysis of foods habits in squash players.Journal of Physical Education and Sport, 19, 1300-1307. doi:10.7752/jpes.2019.s4189

Heaney, S., O'Connor, H., Michael, S., Gifford, J., & Naughton, G. (2011). Nutrition knowledge in athletes: A systematic review.International Journal of Sport Nutrition and Exercise Metabolism, 21(3), 248. doi:10.1123/ijsnem.21.3.248

Trakman, G., Forsyth, A., Hoye, R., & Belski, R. (2017). The nutrition for sport knowledge questionnaire (NSKQ): Development and validation using classical test theory and rasch analysis.Journal of the International Society of Sports Nutrition,14(1) doi:10.1186/s12970-017-0182-y

Trakman, G., Brown, F., Forsyth, A., & Belski, R (2019). Modifications to the nutrition for sport knowledge questionnaire (NSKQ) and abridged nutrition for sport knowledge questionnaire ANSKQ). Journal of the International Society of Sports Nutrition, 16(26). doi:10.1186/s12970-019-0293-8

Schoenfeld, B. J., & Aragon, A. A. (2018). How much protein can the body use in a single meal for muscle-building? implications for daily protein distribution.Journal of the International Society of Sports Nutrition, 15(1), 10. doi:10.1186/s12970-018-0215-1

Aragon, A. A., Schoenfeld, B. J., Wildman, R., Kleiner, S., VanDusseldorp, T., Taylor, L., . . . Antonio, J. (2017). International society of sports nutrition position stand: Diets and body composition.Journal of the International Society of Sports Nutrition; J Int Soc Sports Nutr, 14(1), 16-19. doi:10.1186/s12970-017-0174-y

van Loon, L. J.,C., Greenhaff, P. L., Constantin-Teodosiu, D., Saris, W. H. M., & Wagenmakers, A. J. M. (2001). The effects of increasing exercise intensity on muscle fuel utilisation in humans.The Journal of Physiology; J Physiol, 536(1), 295-304. doi:10.1111/j.1469-7793.2001.00295.x

Burke, L., Hawley, J., Wong, S., & Jeukendrup, A. (2011). Carbohydrates for training and competition.Journal of Sports Sciences, 29, 17.

Hyldahl, R. D., & Hubal, M. J. (2014). Lengthening our perspective: Morphological, cellular, and molecular responses to eccentric exercise.Muscle & Nerve; Muscle Nerve, 49(2), 155-170. doi:10.1002/mus.24077

Leeder, J. D. C., van Someren, K.,A., Gaze, D., Jewell, A., Deshmukh, N. I. K., Shah, I., . . . Howatson, G. (2014). Recovery and adaptation from repeated intermittent-sprint exercise.International Journal of Sports Physiology and Performance; Int J Sports Physiol Perform, 9(3), 489-496. doi:10.1123/ijspp.2012-0316

Owens, D. J., Twist, C., Cobley, J. N., Howatson, G., & Close, G. L. (2018). Exercise-induced muscle damage: What is it, what causes it and what are the nutritional solutions?European Journal of Sport Science; Eur J Sport Sci,19(1), 71-85. doi:10.1080/17461391.2018.1505957

Howatson, G., McHugh, M. P., Hill, J. A., Brouner, J., Jewell, A. P., Van Someren, K.,A., . . . Howatson, S. A. (2010). Influence of tart cherry juice on indices of recovery following marathon running.Scandinavian Journal of Medicine & Science in Sports; Scand J Med Sci Sports,20(6), 843-852. doi:10.1111/j.1600-0838.2009.01005.x

Lewis, N., Daniels, D., Calder, P., Castell, L., & Pedlar, C. (2020). Are there benefits from the use of fish oil supplements in athletes? A systematic review. Advances in Nutrition; 50, 1-15. https://doi.org/10.1093/advances/nmaa050