This week has seen an exciting announcement from two of our partners that looks to add a new dimension to the professional game.
On October 5th PSA and SquashLevels revealed the launch of the 'Power Ratings' which will provide an accurate, up-to-date indication of a pro player's current form.
SquashLevels uses a bespoke algorithm to assess each player's current playing level based on their results and their opponents. 
It focuses on how well they are playing rather than how many rounds they have progressed through. The ratings are updated match-by-match they give great insight into how 'in-form' the players are right now.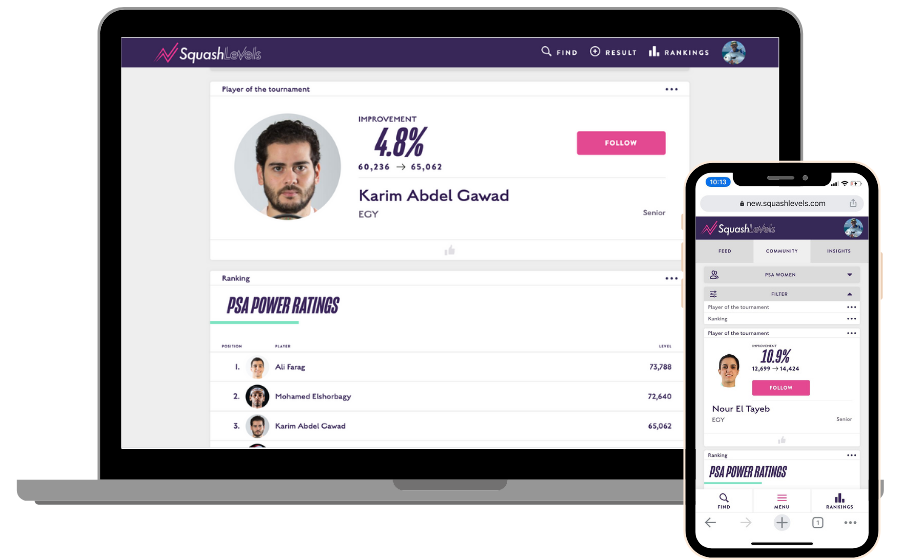 One of the wonderful things about the SquashLevels platform is the fact that it is so inclusive. A beginner who is brand new to the game can play a friendly or box league match at their local club and then immediately draw a comparison to the best players in the world.
SquashLevels is the ultimate companion tool for SquashSkills members who are looking to improve their standard of play. It gives players an objective measure of their level whilst allowing them to track their progress over time.
New features launching in the next two weeks
The SquashSkills testing section is designed to help players improve their ball skill as well as their fitness level as they gain a greater understanding of what they need to do to improve. It will give players an indication of the scores they are expected to hit at their level as well as giving them the opportunity to understand what scores they need to hit in order to improve their playing level. It's also perfect for players who are currently limited in competitive play due to COVID-19.
The Match review feature will enable players to record performance insights and make notes about tricky opponents from which the system will offer online coaching content aimed at helping players to improve weaknesses within their game.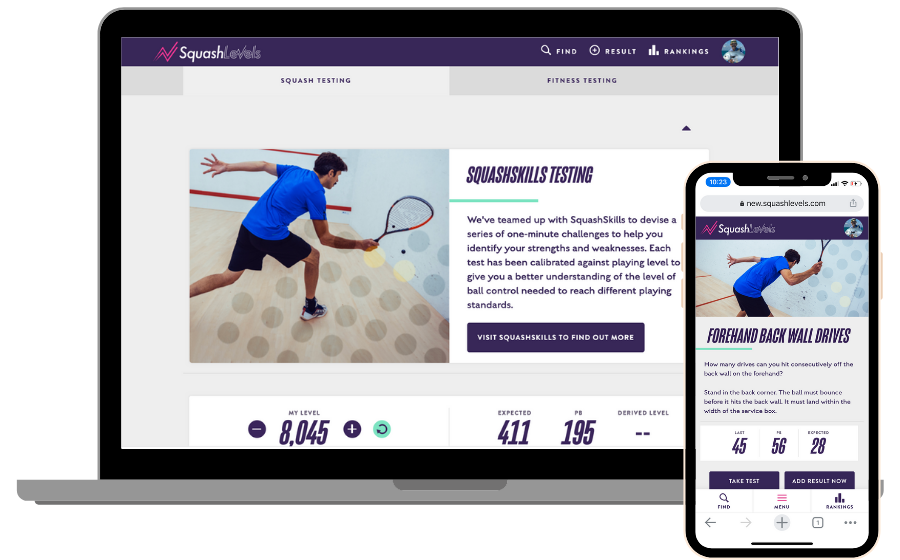 SquashSkills founder, Jethro Binns said: "We're incredibly excited about the new SquashLevels developments. It's an amazing tool that will not only offer deeper insights into the professional game but offer amateur players all over the world the chance to track their level of play and identify what they need to do to improve. We can't wait to roll out the new SquashSkills features on the platform, it's an exciting future ahead…"
The 'Power Ratings' can be accessed by fans on the SquashLevels website under the communities tab. Simply visit SquashLevels.com and create a free account to get started.
Click here to read the latest press release from the PSA and find out more about the 'Power Ratings'.
Create your account on SquashLevels
Visit SquashLevels now and set up your free account giving you access to the social network and the PSA Power Rankings.
Visit SquashLevels