As 2019 winds down and thoughts turn to Christmas and New Year celebrations for most, it's a good opportunity to take a step back and turn a critical eye to your squash performance over the past year. In this two-part article we're going to take a look at how you can go through and evaluate all the key areas of your game, and then consider how you can start building a plan to tackle your weaknesses head-on in 2020!
'Appraisals' are a common feature of many jobs, where an employee periodically sits down with a member of management to review their performance over an agreed period. This kind of analysis is also carried out in many elite sport environments, where coaching teams work through an evaluation process with the athlete to determine which areas of their performance are at the desired level, and which need additional focus and training time.
You don't have to be an elite athlete to go through this kind of process though – whatever level you play at, taking time to periodically critically analyse your squash can be a really useful tool. As we come now toward the end of the year, this is the perfect time to undertake such an assessment.
A really useful instrument to use here is a spider chart (also sometimes known as radar charts). If you've not seen one before, they're a kind of graph that vaguely resembles a spiders web. They're an excellent tool in an evaluation procedure, as they give a good clear visual of all your strengths and weaknesses.
We've included a squash focused one here for you to copy and print out, with our suggested headings: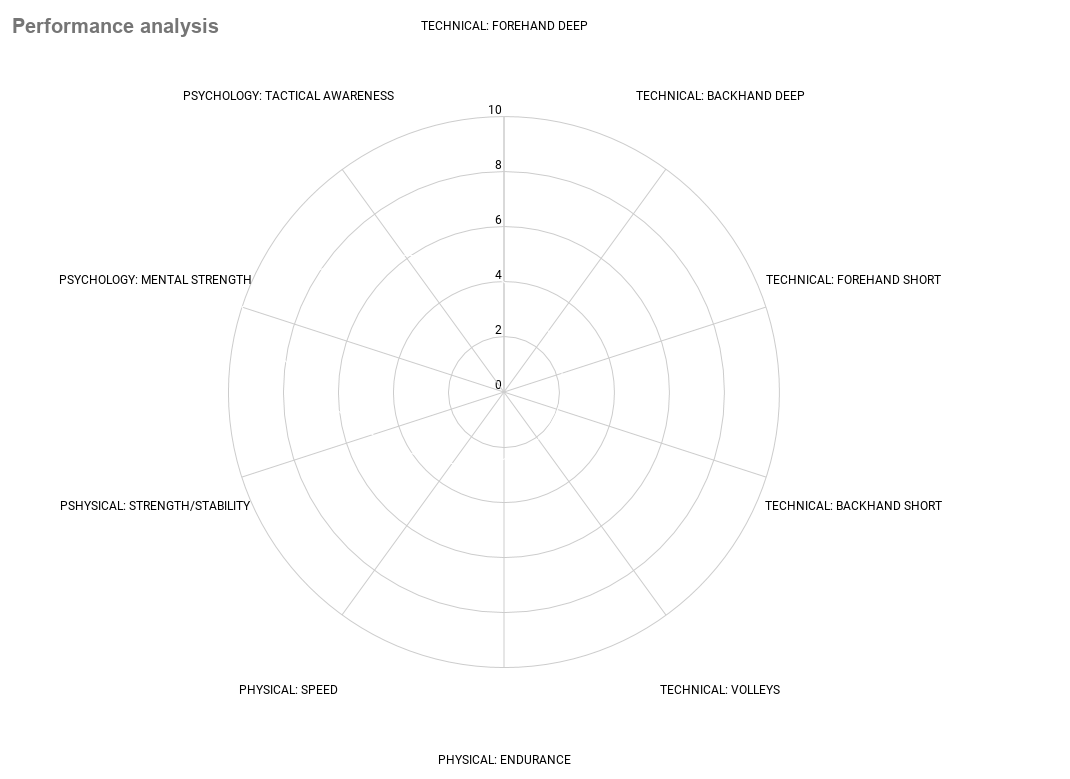 You can, of course, use your own labels instead. You might want to just use more general labels such as 'technique', 'fitness', 'tactics' etc, or you may want to go into more depth and break things down further with headings like 'forehand boast', 'backhand volley drop' etc, it's entirely up to you – there are plenty of internet pages that offer the ability to create your own spider chart, with as many headings as you like.
Each of the headings on the chart then, reference your ability in that area. Think back over your on-court performance across the year, the highs and the lows, and give yourself a mark out of 10 for each of those categories. It's important you consider what a '10' is in relevance to your current level – if you're a relative newcomer to the sport and fresh on the road of your learning journey, grading yourself on a scale where '10' is an elite pro such as Ali Farag or Mohamed El Shorbagy means your graph is going to have an awful lot of extremely demoralising 1s and 2s!
A better way to conceptualise a '10', would be thinking of each attribute in relation to the next level up from you – so if you're a club level novice, think about the players you see in the upper box leagues you play in, or the players you see playing for your club's first team, and use your perspective on their abilities as the model for your 1 to 10 scale. If you're already playing at a good club level, then you can think about your local county level players or any lower-ranked pros that might play or train at your club. Of course, if you're playing at a pro-level already yourself, then El Shorbagy, Farag, El Welily, and all the rest of the top professional players are a perfectly relevant model!
Once you've done your own appraisal on an appropriate scale, the next step is to get your coach to do the same for you. If you don't have a coach, ask one of your regular playing/training partners if they can complete the process with you instead. Give them the same blank scale as you used, and then ask them to fill it in under the same criteria. It's a really interesting exercise to go through and compare and contrast the ratings that you give yourself, as compared to how your coach/partner grades you – merge them onto one chart and connect them with different coloured lines for easier viewing; see here for an example for fitness testing scores, the only difference being yours will have 2 different traces on there.
Once you've completed your spider chart, take a little time to also consider your 3 most prominent highlights of the year, and your 3 biggest disappointments. These could revolve around big matches won/lost, any particular improvement (or lack of) in any particular element, goals/targets you did or didn't manage to stick to, tournament/league results, or anything else you consider relevant. Just make a note of these on the back of your sheet for now, as these will be referred back to later.
In part 2 we'll take a look at how you can properly analyse your grading results, and the best way to take the next steps toward building your new year action plan!
Gary Nisbet
B.Sc.(Hons), CSCS, NSCA-CPT, Dip. FTST
SquashSkills Fitness & Performance Director
Sign up to the SquashSkills newsletter
Get world class coaching tips, straight to your inbox!