We've had some fascinating new content on the site from world number 7 Paul 'Superman' Coll, looking at how he prepares himself for an important match and some of the things he does as part of his daily routine to build up to it. The aim of this article is to give you some practical tools you can take away from Paul's advice, and help make your preparation as conducive to optimal performance as possible.
---
---
An old adage that applies very much to the squash player, is to 'control the controllable' – you can't control the bounce of the ball,  the performance of your opponent, or the decisions of the referee, but you CAN control a lot of the other things in and around your preparation for a game, and how you approach the time available before you go onto court to play.
While at an amateur level you may not have the luxury of a full day to prepare yourself for a big match or tournament, there are certainly some relevant tips that can be garnered from Paul's insights.
Nutrition and hydration play a big role, and ensuring that you both eat a good breakfast/lunch on the day of a big game as well as remember to take in a steady consumption of fluids/electrolytes throughout the lead-up, can both help make a significant difference to your physical readiness just on their own.
Paul also talks about the importance of psychological preparation, and this is an area we've explored in depth on the blog in the past. Even something as simple as recalling some of your best performances from memory as you travel to the venue of your game can have a very powerful effect on your mindset.
Paul discusses in the video about having a light hit during the day leading up to an evening match, and this is a staple part of many pro's preparation routines. While getting on court during the day might not be possible, if you can get to the courts early enough before your match then a short 20-30min 'grooving' session can be a great way to sharpen up your shots before you go into competition mode.
---
Put it into practice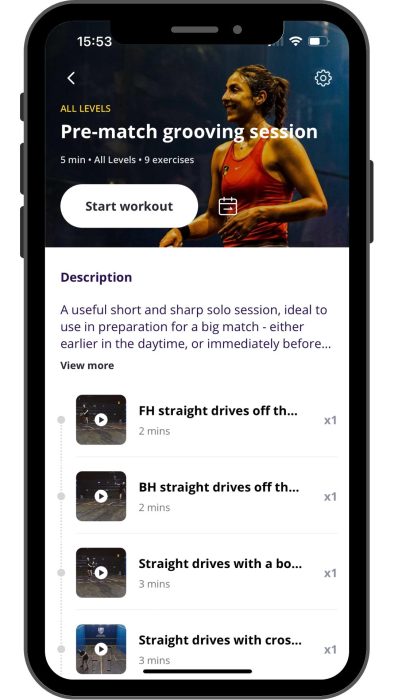 To access the sessions simply subscribe to SquashSkills and activate your Training app account using the email invitation.
Solo Practice
Search for "Pre-match grooving session" In Squash Sessions on the SquashSkills Training app.
Solo 'grooving' session you can use anywhere between 8 hours to 30mins before a big match, to help sharpen your technique ready for action.

Want to add a physical edge?
Search for "Lower Body Mobility Focus" In Fitness Sessions on the SquashSkills Training app.
Lower body mobility session to help open the body up and loosen off tight joints, to use in the daytime before an important match.
Related content

How To Structure Your Warm Up – With Gary Nisbet
The warm-up is crucial to preparing yourself for any physical exertion and should be an essential part of your pre-match preparation to help prime your body and mind.

How To Improve Your Mental Toughness In Matches – With Paul Assaiante
In this series, Paul Assaiante explains everything you need to know to improve your mental toughness during matches.

Inside The Mind Of Ali Farag – Match Preparation
Watch this to get some insights from Ali Farag on why he feels a pre-match hit is so important.
Let us know how you get on with the sessions, we'd love to hear your feedback!
Not watched the full playlist yet?
In this mini-documentary, Paul takes us through his process when preparing for a match, from his morning routine right through to his post-match recovery.
Watch the playlist in full