When you are moving well, timing your split-step, and getting out of the previous shot quickly, this will allow you to execute consistent shots, as well as to apply pressure on your opponent by your movement skills.
In this playlist by Lee Drew, he takes a real deep dive investigation about how to improve your footwork in all areas of the court. You need to move in relation to your body shape and size and this playlist details exactly how to do it. Lee comprehensively covers all areas of the court and how to move effectively forwards, sideways, and to the back of the court. There is no one-size-fits-all way, but they're awesome very common areas that will happen no matter your size or shape.
Often footwork does not get worked on appropriately enough. Very often we just observe and judge our shots. We work on the technical aspect of hitting the ball. But if the footwork is ignored you are missing out on a lot of ways to improve your game.
We have put together a number of solo and pairs practices in order to drill into correct footwork and how to incorporate this into your matches, you can check the information out below. If you're able to practise footwork in this way, it will have a transformational effect on your game. When you are moving well it feels like nothing will beat you. You will be flowing around the court effortlessly, timing each step, anticipating your opponent's next shot, and ultimately doing all of this in a very calm and efficient manner.
Good luck, and enjoy!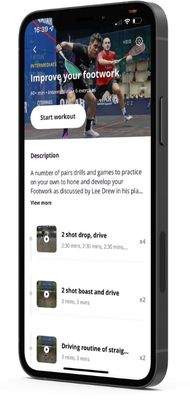 Improve your footwork
We've created solo and pairs sessions for you to put Lee's teaching into practice.
To check them out simply go on the SquashSkills Training app, tap on the On-Demand library and search for 'Improve your footwork' on the Squash Sessions page.
Related content

How To Link Movement To Matchplay – With Jesse Engelbrecht
Jesse discusses some of the key points relating to movement and explains how to incorporate movement practices into your training.

Perfect Your Movement On & Off The Ball – With Nick Matthew
Nick reveals the secrets to his incredible movement and explains some simple tricks that will help you to improve your speed and efficiency around the court.

Improve Your Footwork – With Thierry Lincou
In this series former World Champion and World Number One Thierry Lincou takes you through drills to improve different types of footwork.
Haven't seen the full series yes?
In this series, Lee Drew takes a look at footwork and movement in all areas of the court
Watch now