No matter what level you are at it will always be worth revisiting the basics. You will often hear top professionals talk about getting their basics wrong in matches they lose. They will very often go back to the drawing board and be sure to check they have their basics down.
This latest playlist from Jesse Engelbrecht looks to present some quick tips and quick wins to refresh yourself on the basics of the game. Starting with the correct grip is essential. And without holding the racket in the right way you will massively limit yourself to the shot choices and shot quality you play. You also need to ensure your presentation and positioning is on point because when this is done well you will feel you can play more consistent squash and at a better range.
Being reminded about the general swing path for the forehand and backhand side will be useful as well as knowing the correct spacing you should have when it comes to striking the ball. Being able to be consistent and confident on your volleys and drop shots will give you authority on the court and you will be able to control the game better.
Finally, being reminded to transfer your weight through the shot as well as using your follow-through to get back to the T will make sure that you are central when your opponent is hitting their shots and therefore be able to pretty much cover anything they will play.
So again, please do enjoy this playlist and the subsequent training designed, to ensure your basics are correct as even the best players in the world revisit this often.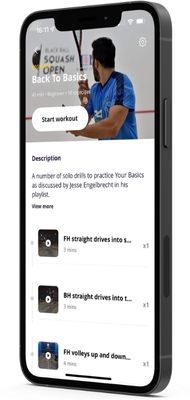 Improve your basics
We've created new solo and pairs sessions for you to put Jesse's teaching into practice.
To check them out simply go on the SquashSkills Training app, tap on the On-Demand library and search for 'Back to basics' on the Squash Sessions page.
Related content

Non-negotiables In Squash – With Paul Carter
In this playlist, Paul Carter looks at the core competencies that must be adhered to from a technical standpoint for any player to advance.

Beginners Guide To Volleying – With Nick Matthew
Former three-time World Champion Nick Matthew takes us through the fundamentals of volleying.

Zero to Hero: Technique – With Jesse Engelbrecht
Jesse Engelbrecht takes you through the basic techniques of squash to help bring your game to the next level.
Haven't seen the full series yes?
This is a playlist designed for relative newcomers to the sport as well as players who are looking for a refresher on the key components of good technique.
Watch now