Having a hitting partner and a coach available for you in a session is of high value.
There is so much you can do in your training session to replicate the key parts of the game of squash. Very often we just go in and play the game of squash, but when you can limit the options this increases the consistency in what you are trying to do and achieve. When you feel you can drill into the consistency of a pattern, over time, this transfers into your game of squash.
Often when mental and physical fatigue sets in during a match, the consistency of the game disappears. When you can train and focus on repetitive patterns of play, this will ensure a higher level of consistency when maybe mentally and physically you may be dropping off. You have trained, and coded yourself, to be able to replicate the swing, movement, shot placement, and accuracy during training.
In his latest playlist, Shaun Moxham outlines some fantastic pairs drills to work on when a coach is involved. The sessions range from finding a tempo and a rhythm with players at the beginning, right up to full pressure style hitting with lots of options and variability.
If you are able to take on board these sessions that Shaun has designed and execute them on a regular basis, there is no doubt that a physical, technical, mental, and movement improvement in your game will happen. And when this happens your confidence levels will rise, and with that the overall enjoyment of playing the game.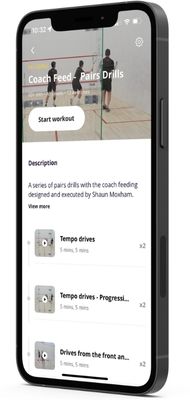 Improve your footwork
We've created a new coach feed session for you to put Shaun's teaching into practice.
To check it out simply go on the SquashSkills Training app, tap on the On-Demand library and search for 'Coach Feed – Pairs Drills' on the Squash Sessions page.
Related content

A Guide To Cold Ball Drills – With Shaun Moxham
The concept of using cold balls puts a real emphasis on grip strength and helps players 'feel' the weight of the ball on the strings.

Pressure Drills – With Shaun Moxham
In this series, we learn a selection of drills Shaun uses to sharpen up his players' response to pressure on court.
Haven't seen the full series yes?
It's a fascinating playlist for coaches who want to add something new to their repertoire, but there's plenty to learn here for players who want to spice up their practice and work as a three.
Watch now